SterJo Facebook Password Finder v.2.0
SterJo Facebook Password Finder is free application designed to recover the password of your Facebook account saved by most popular web browsers. Almost every browser has an option to remember logins and save you a lot of time when you need to retype them. But sometimes you could easily forget facebook password especially if you change it often.
How is SterJo Facebook Password Finder working?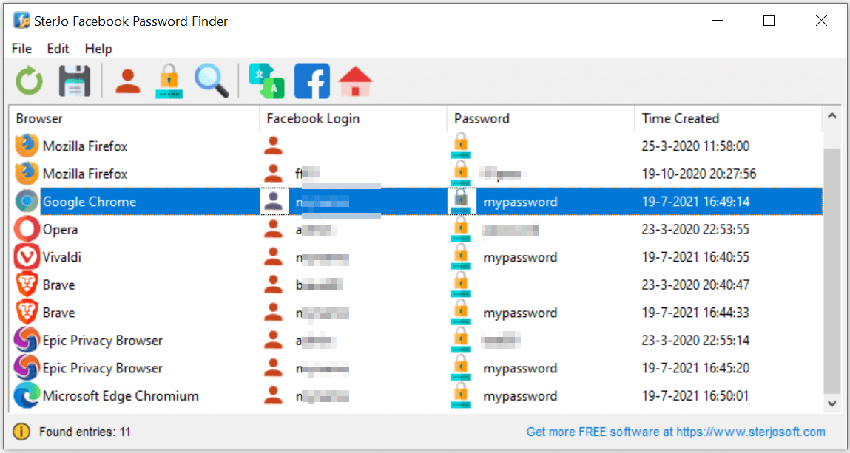 The primary objective of this tool is to help users that have forgotten their password and want to recover it instantly. Interface of the program is very simple to use and all you have to do is click a button to recover your facebook login details.
NOTE! This is NOT a facebook password hacker nor even a facebook password cracker and it should be used only to recover your own forgotten facebook login stored by the web browser.
Download
Portable
About Downloading the SterJo Facebook Password Finder
SterJo Facebook Password Finder works on both 32-bit and 64-bit editions of Windows XP, Windows Vista, Windows 7, Windows 8, Windows 10 and Windows 11. Download it now for free!
NOTE!
Mozilla began to automatically switch users from 32-bit Firefox to 64-bit Firefox, with the update to Firefox version 56.0.1 on October 9, 2017. Because my software is 32-bit, the decryption modules for Firefox could not be loaded and therefore username and password fields are shown blank. If you still need to recover your Firefox 64-bit login details please see
How to recover 64-bit Firefox passwords
or check
How to opt out of 32-bit Firefox migration to 64-bit
Version History
Version 2.0: UI changes and removed .OCX and some .DLL dependencies.
Version 1.6: Added support for the latest Microsoft Edge browser based on Chromium.
Version 1.5: Added support for the latest encryption on Chrome, Opera, Vivaldi and Brave browser.
Version 1.4: New browsers included: Brave Browser, Epic Privacy Browser and Torch.
Version 1.3: Bug fixes.
Version 1.2: Vivaldi and Yandex browsers included.
Version 1.1: Added multi-language support.
Version 1.0: First public release.